Maximalism vs. Cluttercore vs. Minimalism
What do all these labels means and do they actually matter?
The Internet loves labels. Especially for trends and the things we will fill our homes with.
I don't know why, but maximalism and cluttercore have made their way into my social feeds in full force in the last week and at first I was pretty turned off both terms. Why would I want to fill my home with more stuff (what I initially though maximalism was), or put all of my stuff proudly on display (what cluttercore is all about)?
But then I read more about the two terms. And the more I read, the more confused I was.
Now though, I think I've figured it out.
Here's the TL;DR version: maximalism and minimalism are DESIGN TRENDS at the opposite end of the scale. I've written about this before because people seem to confuse minimalism as a lifestyle of intentional and overall less consumption with minimalism as a design trend. Cluttercore on the other hand, exists as a way to show off the things in your house that you love, leaning into clutter (and some people would say chaos).
I want to take some time to unpack each of these trending terms and figure out where and how most of 'normal' folks can use them to make sense of how we feel about our own stuff.
Spoiler: one of these trends gives me hives and I almost can't stand to look at pictures of it.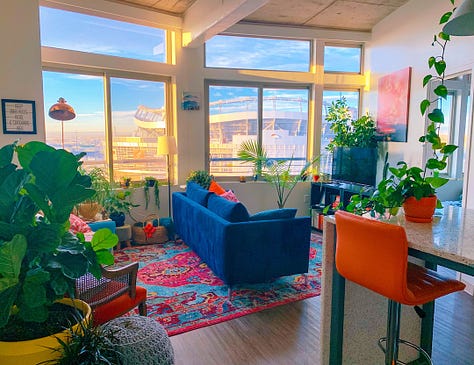 Let's get into it.
Keep reading with a 7-day free trial
Subscribe to Tiny Ambitions to keep reading this post and get 7 days of free access to the full post archives.