How to Survive the Holidays as a Minimalist
It's here! The wonderful, sometimes snowy time of year where we throw our budgets and waistlines to the wind - the holidays!
I've written before about what to do with gifts you receive that just don't fit your life, so give that a read if you need a refresher.
This week though, I wanted to tackle the holidays head on and share how to survive the holidays as a minimalist (based on my own life-tested experiences). If you love the holidays and everything about the season brings you joy - keep doing what you're doing. I am never in the business of telling people to give up something they love.
But, if you're like me and just thinking about the holidays gives you a knot in your stomach - stick around!
For me, my anxiety about the holidays revolves around two things- interacting with real-life humans who don't understand me (aka relatives) and dealing with all the 'stuff' that permeates the season.
Beyond anything else, I want you to know that you have options on how to survive the holidays.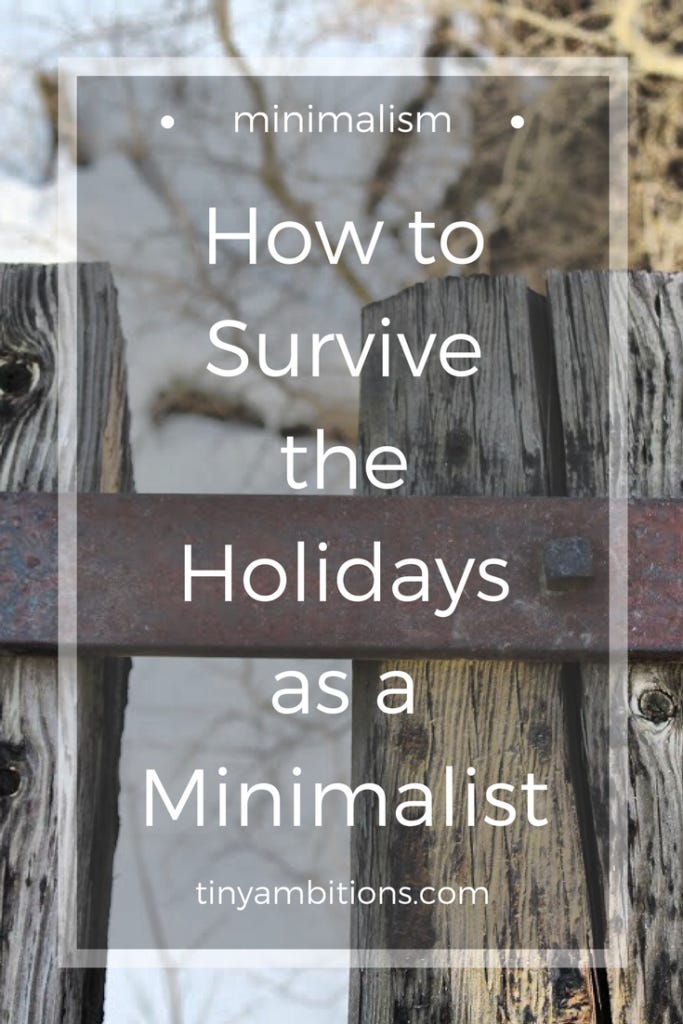 1) You Don't Have to Buy Your Christmas
Here's a crazy statistic. Did you know that 24% of millennials are still paying off Christmas/holiday debt from LAST YEAR? That is straight up crazy.
I would never want my family or friends to go into debt to buy me a gift. And, I hope they wouldn't want me to go into debt either. (Again, if buying gifts make you happy and everyone around you happy, keep on keeping on). All I want to do over the holidays is hang out with friends and eat some good food. That's it.
I have no interest in people buying me gifts (and, to be honest, I have no interest in buying gifts for others). My only gift-giving exception is if a family member wants something they can't afford to buy themselves.
If you were to imagine your own Christmas/holiday without the decadent gifts, would it be fundamentally different? I know mine isn't. And, I don't think yours would be either.
I come from a pretty big family where buying presents for everyone isn't really feasible. So, instead, we pick names out of a hat and each person buys one gift for one other person. The price limit is $20 and that's it.
While I would prefer no presents at all, this is a pretty good compromise to keep my minimalist self safe from unwanted clutter and keep my family members happy.
Another option if you don't want to add to someone's 'stuff' or you don't want someone to add to your's- experiences can do the trick. This doesn't need to be an extravagant trip (though if that's what you want, go for it). It can be as simple as agreeing to cook someone dinner or buying them a treat from a local salon.
Above anything else, do as Joshua Becker said on Twitter recently,
Before buying a whole bunch of new stuff for your loved ones this holiday season, maybe you should ask if they even want a whole bunch of new stuff.
You might be surprised at their answer.
2) Make Your Own Traditions
If you choose to not wake up on Christmas morning to a tree packed with gifts (or even a tree at all), it might be a bit of a shock to your system (not to mention your families). To ease that transition, you're probably going to need a new tradition to fill that void.
My personal favourite way of doing this is with food. Half of my family is German and Austrian which means I grew up spending December 24 around the biggest feast you've ever seen. My grandfather would unload every German meat, cheese and pickled vegetable he could get his hands on and we would chow down.
Nothing about this feast was fancy and it didn't revolve around gifts or presents. It was just a way for us to stuff our faces and hang out together. (And it goes without saying that this feast could be done by a take-out menu - cooking skills not required).
If food isn't your jam (sorry, not sorry for the terrible food pun), you can replace your gifting activities with any number of activities like singing carols with your family, playing card or board games or doing an amazing movie marathon of your family's favourite flicks. (I've done all of these over the years. There is literally nothing better than watching eight hours of Lord of the Rings on Christmas Day).
Whatever you choose to fill the gift-giving void, make it fun and make sure it fits with your interests.
3) Remember, It's Only Temporary
If imaging being stuck in a house with your family over the holidays gives you hives and/or anxiety - welcome to the club.
If you're anything like me, you have alternative viewpoints, goals and lifestyles than the rest of your family. This means that the holidays can be a powderkeg of raised eyebrows, under-the-breath comments and a general air of tension.
The best thing you can do is remember that it's only temporary - thank goodness.
It might be downright unpleasant to be around your family for many days straight. But, the holidays will eventually end and we'll all be back to dreading winter in no time (if you live in Canada, that is). On the more practical side, it wouldn't hurt to have a zen-to-go kit at the ready. For me, that's either a good book I can escape into, or my meditation app.
4) Say No, Seriously
I don't know about you but I know a few people who put an enormous amount of pressure on themselves to throw the perfect holiday party, buy the best presents and have the most insanely decorated house on their street.
There is nothing wrong with any of that. But, I think we often forget about a useful word in our vocabulary to help alleviate that pressure.
No.
Trust me, you can say no. You can say no to something small - like your company's holiday party (I did!). Or, you can say no to something big - like the holidays as a whole.
My friend Lisa over at Simple Life Experiment is doing just that - boycotting Christmas. Her reasons are more related to the environmental impact that the holidays can have, but one fact remains true:
[bctt tweet="Opting out of something that does you more harm than good is completely valid. Even if that something is Christmas. " username="tinyambitionsbb"]
Don't let anyone tell you otherwise.
It's your wallet, your waistline and your stress level that has to deal with the holidays. No one else gets to compromise those things for you.
Now, that doesn't mean you have to be a grumpy Grinch. You can choose to redesign your holidays to suit your reality. Check out Lisa's post on ways/ideas to redesign your holidays.
5) Give Back, If You Can
I spoke about this in a recent episode of Tiny Bites, and I think it bears repeating. I'm intentionally choosing to have a Christmas with less. However, not everyone gets to make that choice.
Giving back has always been a part of my holiday strategy (even if was just dropping off some non-perishable food at the food bank). But, it's become even more important since becoming a minimalist. I would rather contribute to making someone else's holiday happier, than buying myself more stuff I don't need.
There are a number of programs in my area that accept food and toy donations for local and Northern remote families in need and I am grateful to be able to contribute to them. If it is within your budget and means, consider making someone's holiday a little brighter.
At the risk of sounding like a broken record, above all else be grateful for your minimalist life this holiday season. I choose to live my life this way, and I know it's an incredible privilege. And, it's important to remind ourselves of that, especially during the holidays.
---
Time for Some Minimalist Holidays
It's easy to get caught up in the hustle and bustle of the holiday season, and I'm as guilty as anyone.
So, before we dive in headfirst into the holiday season, let's all take a deep breath in and out.
There. Doesn't that feel better? Works every time.
Are you planning an alternative holiday season this year? Are the holidays important to you? Why or why not? Let me know in the comments below!
If you missed last weeks episode of Tiny Bites, all about the buy-quality debate, you can listen to it here. You can catch up on past episodes here. You can also subscribe to Tiny Bites in iTunes and Google Play Music.
Image Credit: Tiny Ambitions