A Minimalist Workwear Capsule Wardrobe (if wearing black and white just isn't your thing)
I don't know about you, but I've never gotten on board with the "minimalists must wear all black or white" mantra. It's just not for me. Nor do I think you have to wear neutrals to be a minimalist. If that's your style, that's great. But, if you're like me and you get discouraged whenever you see an all white/black/grey minimalist wardrobe online, then this is the post for you!
I wanted to share with you the key pieces that I wear to work every week (since I do spend 35 hours there each week). I own more than the 12 pieces I've included, but I wear these ones on a weekly basis around 90% of the time. I didn't include shoes in this list because a) I wear the same pair of vintage leather oxfords every day and b) they were at work when I was taking the pictures for this post. I also didn't include purses or outerwear because, again, I use the same backpack for work every day and I live in Canada, which means I have one coat for every season and wear it every day.
This post is not about telling you that you have to wear these exact items to be a minimalist. Far from it. I want this post to show what a real-life minimalist wears in her daily life to show that it doesn't have to be all black/white/grey or super modern.
Some Work Context
I work in a semi-professional environment. As you'll see from the images below, my work environment is somewhere between casual tech startup and business formal mega corporation. My department also tends to dress a little more formal than the rest of the staff, since we work in marketing and communications - we have to look the part!
My Minimalist Workwear Capsule Wardrobe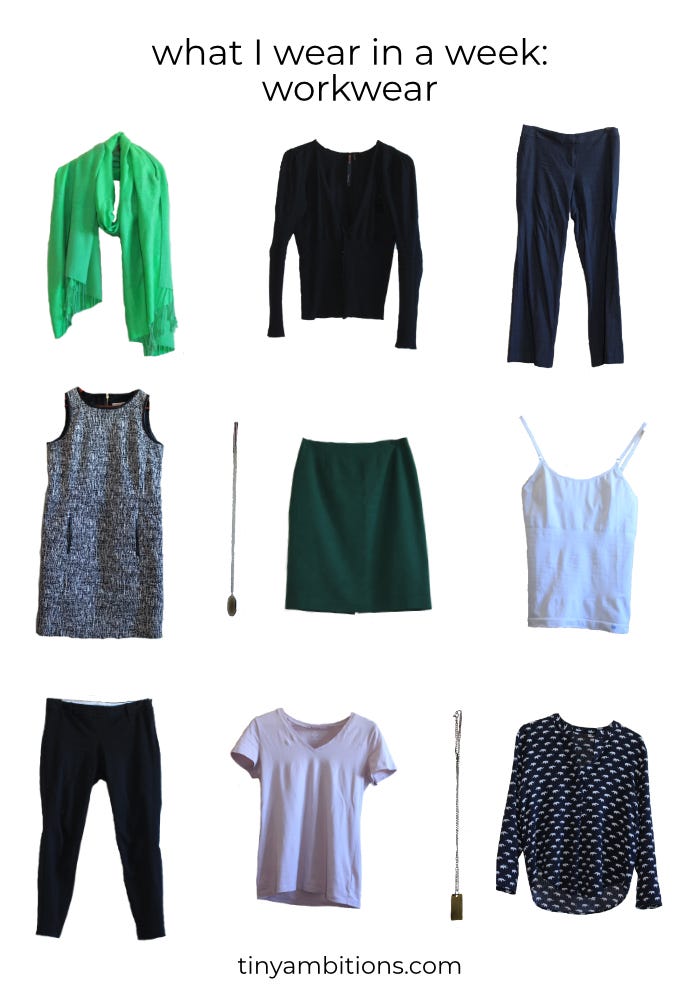 1) Green Pashmina
My mom gave me this scarf a couple of years ago and I wear it probably 4 out of the 5 days I work in a week. I have green eyes, so when I wear green close to my face, they pop!
2) Black Cashmere Cardigan
Ok, so I do still own some black staple pieces. This cardigan might be my oldest piece in my closet. I purchased it when I was in high school, so that makes it over 10 years old. It's definitely a workhorse. It's beautifully soft and the shoulders are slightly puffed for some extra detail.
3) RW & Co Navy Blue Wool Pants
These dress pants are one of two pairs of dress pants I own, and I wear them at least twice a week. The wool blend material means they are more sweat and odor-resistant than synthetic blends so they don't need to be washed as often. My laundry bin is grateful for them.
This dress was a recent purchase when I changed jobs in November. I purchased it off Etsy from a vintage store and fell in love with it right away. It has pockets - pockets! Give me a dress or skirt with pockets and I will be happy forever. I normally wear this piece one or twice a week as well. It's hard to tell from the photo, but it's actually a white and blue print, which I love.
5) Stella and Dot Drop Necklace
This necklace was a gift from my in-laws last year for my birthday. I don't buy jewelry for myself, mainly because I almost never wear it. But, this necklace is a lovely translucent dark green colour that goes with pretty much everything in my closet. I also really like that it lands mid-chest on me.
I love this skirt. It's as simple as that. I purchased it second-hand from this Etsy store and it's a great example of quality vintage construction. When I wear it, I feel like a Mad Men era boss, in the best way possible. The color is vibrant emerald green (that, of course, didn't show up in the picture), it fits me perfectly and it's wool, which I prefer over synthetic materials.
7) Miel Sisters White Camisole
I don't normally like synthetic fabrics, but that goes out the window when we're talking about base layers. I discovered Canadian brand Miel Sisters last year and they've become a fast favourite of mine. This camisole is the perfect base layer under most of what I wear in a week. It has a shelf bra, strong straps and the material is engineered to be sweat and odor-resistant. And, it's manufactured in Canada, which is the cherry on top.
8) Second-hand Aritzia Babaton Elliot Pant
I love these pants so much I actually own two pairs. Both purchased second hand from eBay. I wear these pants on casual Friday because they are so comfy but still professional. I love the side-zip and behind the knee seaming which makes for a perfect fit. Bonus, Aritzia still makes them!
9) Sears Pima Cotton Blush V-Neck T-Shirt
Right before Sears went out of business, I discovered they made the perfect t-shirt for me. Spandex-cotton blend, not sheer, just the right length, v-neck and in a gorgeous light blush colour. Needless to say, I also own this shirt in white and a grey melange. But, I find myself reaching for the blush most often.
10) Handmade Short Length Necklace
This necklace was also a gift from my sister-in-law this past Christmas. It was handmade by a local Canadian designer and I love it. I wear it on the days I'm not wearing the Stella and Dot Drop necklace (i.e. whenever I wear something with a v-neck).
11) Hand-me-down Navy Elephant Print Blouse
This blouse was a hand-me-down from my apartment mate from grad school. Her laundry shrinking mishap was my gain! I adore this blouse. It's fun because of the print, but still professional. And, it has roll-up cuffs for when it gets a little warmer out.
---
There you have it! This is what I wear in any given week. I might sub in a white t-shirt every now and again for the blush one, but, for the most part, this is what I wear to work. I hope you had fun rummaging around in my closet! If nothing else, let this post serve as a reminder that no lifestyle trend can tell you what to wear. Minimalism is great, but if I'm expected to wear black, white and grey everything, I'll be mailing back my membership card.
How would you describe your style? Do you have a workwear capsule wardrobe? Let me know in the comments!
If you missed the most recent episodes of Tiny Bites, you can listen to them below!
Tiny Bites Episode 19: Minimalist Relationships Tiny Bites Episode 20: On Being Alone
Image Credit: Tiny Ambitions
Pin it for later!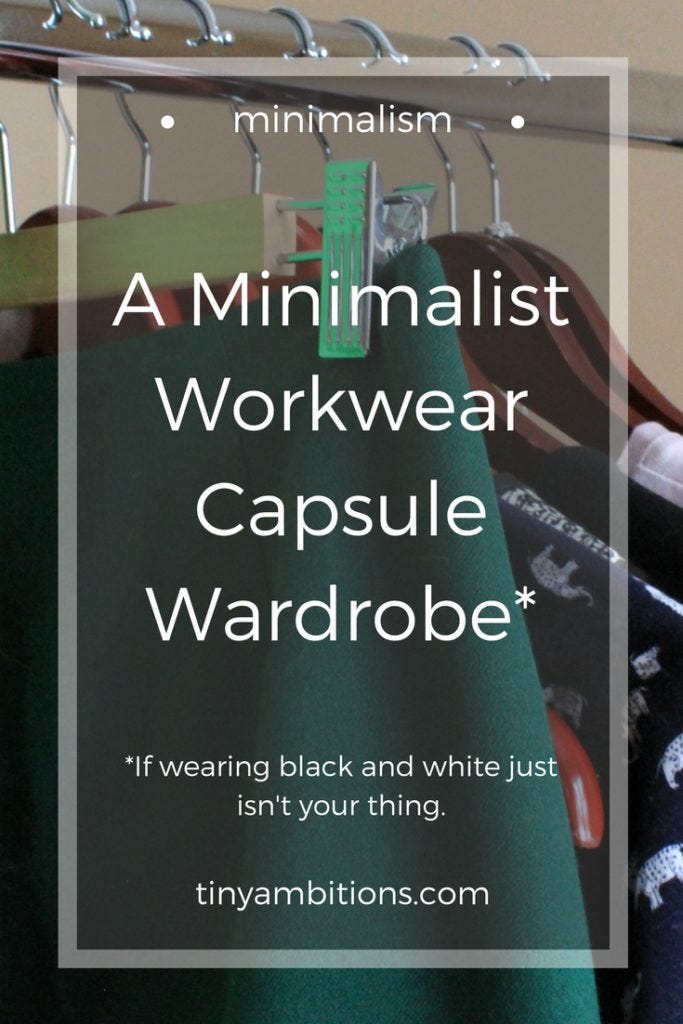 *Disclaimer: this post contains affiliate links. Read my disclosure here.