My Field-Tested Review of the Kosan Go Travel Dress
Aka, an excuse to share photos from my Italian vacation
Before we dive into the review, I want you, dear reader, to know that I did not receive the Kosan Go Travel Dress for free, or even at a discount in exchange for this review. I paid full, Kickstarter early-bird price for this dress. All opinions are my own, based on my time wearing the dress during our vacation in Italy this summer. (This review might be moot at this point though, as the dress is completely sold out on Kosan's website).
If you've spent any amount of time on this blog, you know that I travel carry-on only. It's kind of my jam. I did it last year when I went to St. Lucia with my best friend. So, when my partner and I were planning our trip to Italy this summer, carry-on only wasn't even a question. 
One of the three pants/romper/dress items I brought with me on that trip was the Kosan Travel Dress. The main purpose of our trip to Italy was to attend the wedding of a friend on the beautiful island of Capri. I purchased the Go Travel Dress way back in January of this year, in anticipation of needing something wedding-appropriate to wear, that would also travel well. 
As is the Kickstarter way, I waited months to receive my dress and I paid extra to have it shipped to me in time. I received it a couple of weeks before the wedding and didn't wear it until we were in Italy. So, did it live up to the hype I had created in my head? Let's find out. 
My Kosan Go Travel Dress
I originally purchased a small, with a back keyhole in the red floral pattern. I adore the floral pattern and it was really the only colour I considered when I was looking at the dress. It seemed very summer wedding appropriate. If I was just buying the dress to wear around, I also would have considered the Mineral Green or Lavendar Fog colours. Due to an error on the part of the shipping company, the dress I originally received was quite badly stained with oil. 
To Kosan's credit, they were able to ship me a new dress in time. Since I had to get a new one anyway, I swapped my size small for a medium and lost the keyhole detail due to the stock they had available.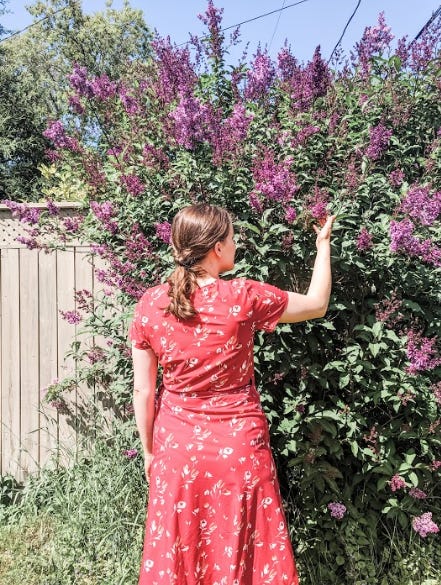 For size context, I normally wear a size 6/medium in tops and closer to a size 8/medium in bottoms. Based on the advice of Karyna from Kosan (who I had given my actual measurements to), she advised I purchase a small for a tighter fit. When I received the dress, I realized a small was not in the cards for me. I ended up sizing up to a medium to be more comfortable in the waist area and also giving my hips a little more room. 
This is hard to explain, but I felt the small was somehow too small on my chest, but also that my chest didn't fill out the dress properly. The dress has quite a deep v in the front, which because of my chest/rib measurement, left me feeling uncomfortable in the small. With the medium, I had more fabric to adjust to get the coverage that I wanted. If you have chest and hip measurements that are more similar to each other than mine, a small may work better for you. 
Pockets, pockets, pockets, oh my!
The Kosan Go Travel Dress has four different pockets (FOUR). I don't need to explain why this is epic. If you're a person who wears dresses, you know why this is epic. 
Two of these pockets are in the chest area of the dress, and two are zipped pockets on the sides, where you would typically expect pockets to be. I really only took advantage of the two fuller sized side pockets. They held my massive phone, a Google Pixel XL, with no issues. You couldn't even tell I had my phone on my person.
The smaller pockets are inside the dress, in the bust area. Which means you can't really put anything in them that you'll need to reach for often. I mean you could, but I'd be worried about a wardrobe malfunction. I am smaller chested in comparison to my hips, so I didn't find that I could use the chest pockets without warping the way the dress fit. 
Your Dress, Your Style
A key feature that originally drew me to the Kosan Go Travel Dress was the ability to wear it three different ways. (The website only officially says two, but I found a third way that actually ended up being my go-to). Thanks to snaps hidden on the wrapped sides of the dress, the hemline of the dress can be clipped from mid-calf length, to just above the knee. The third option I found was to only clip one of the sides up, so it was a half-up, half-down situation. 
The ability to wear the dress different ways is crucial when travelling with a limited wardrobe, or even when you just want to get more wear out of a piece in your closet.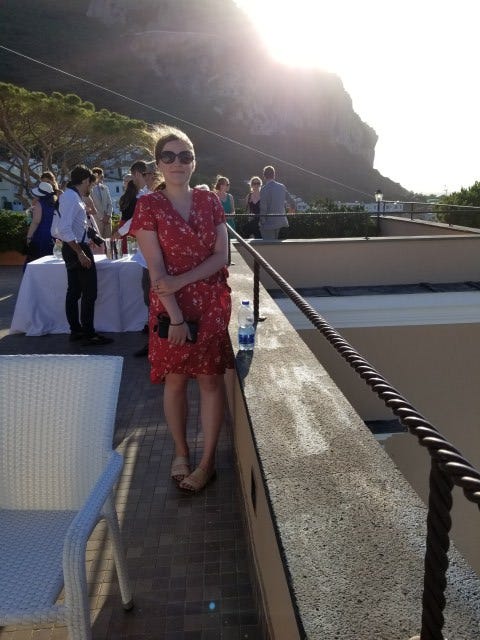 Just me, being my normal awkward self. (Dress is half-clipped up here). Note my hair (aka the wind).
However, despite having the option to wear the dress multiple ways, in reality, I could only wear it one way. I wanted to wear the dress snapped up and short for the wedding (which was at a fancy-schmancy 5-star hotel). But, thanks to the wind, I had to unsnap it and wear it long to keep it from having my own Marilyn Monroe moment. During the course of our vacation, I actually found that I could never wear it snapped up because even the slightest breeze would send the flaps of the dress off into the wind, exposing my thighs (and threatening to expose other bits).
A detail I am considering adding to my dress is a snap around halfway down both sides of the dress, so I can clip the flaps together to keep them from going up, up and away. I also wonder if the Marilyn moment was because I didn't size up again to a large. I certainly could have done that for my hips, but it would have been way too large on my chest. It seems that the age-old dilemma of fitting a two-sized body cannot be easily solved by a creative Kickstarter campaign.
That being said, I do love the wrap style nature of the dress. Given that I am larger through the hip and stomach area, the wrap closure give a defined waistline and helped me to feel secure in the dress. It also adds super cute detail at the waist. I am also a sucker for a slightly longer than normal cap sleeve. The sleeves on this dress are the perfect length and hit a couple of inches below your shoulder on your forearm. Somehow, these sleeves keep the dress looking casual, but also fancier than if they had designed the dress with a tank arm line.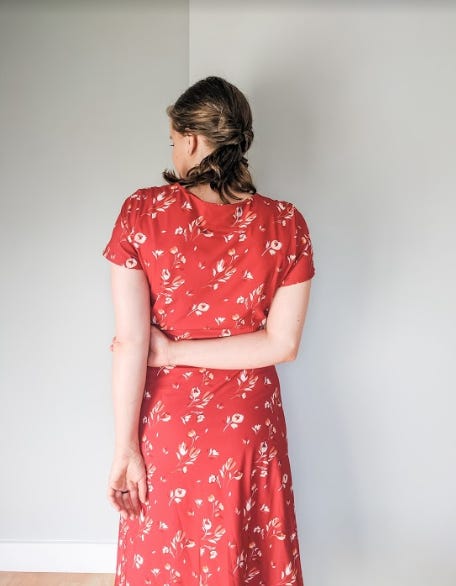 Built to Travel, Literally
The Kosan Go Travel Dress has a ton of features that make it a dress geared specifically towards travellers. This includes performance fabric, UV protection, wrinkle-resistance, quick-drying, moisture-wicking, anti-odour, and easy-to-pack. Kosan also claims the dress is lightweight and breathable, but I beg to differ. 
Given that I was travelling with only a backpack and a small purse, space was of the essence. I couldn't waste space trying to bring a dress to wear to the wedding that needed to be handled delicately. I packed the Go Travel Dress into a small packing cube (I wanted to make sure nothing else I was packing injured it) and threw it into my bag with no issues. 
This dress gets top points for its wrinkle resistance and its anti-odour properties. It was 35+C in Italy and I wore the dress multiple days in a row without it smelling. This is thanks to the anti-bacterial surface treatment that prevents odour causing bacteria. Here's the downside, Kosan claims the dress is lightweight and breathable, but it wasn't for me. It is a performance (aka synthetic) fabric that I felt was quite heavy and trapped heat in. While I never smelled when I was wearing the dress, as soon as I put it on, I just felt heavy. I can see why the keyhole detail in the back was the first option they designed. It would have given the dress some much-needed ventilation.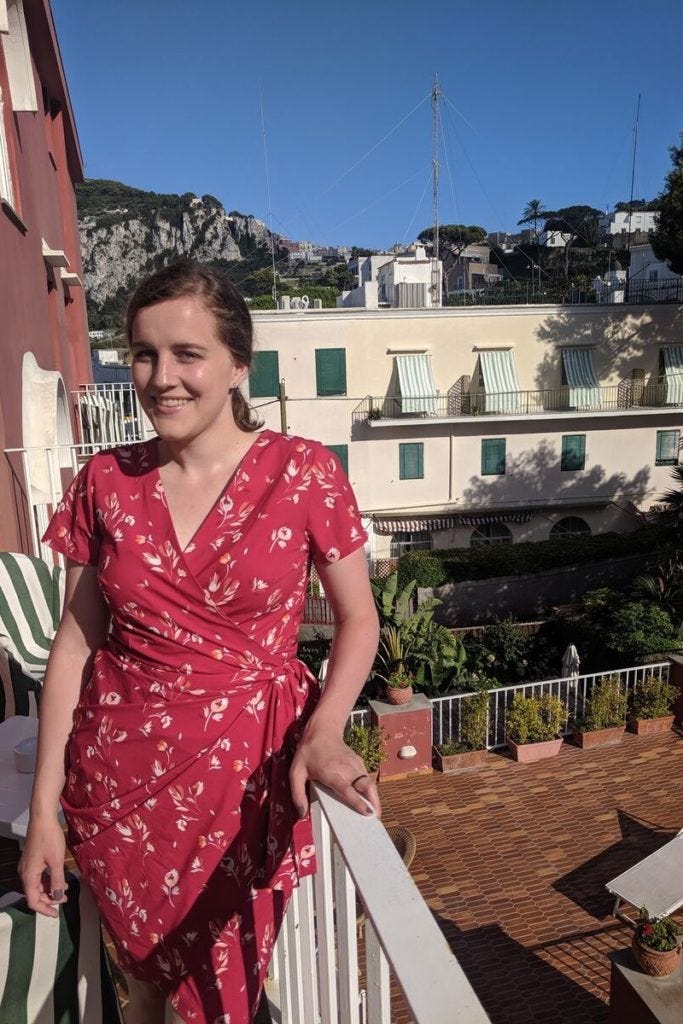 Me, literally melting in the Italian sun. (Dress is at above-knee clipped length).
As I said it was sometimes unbearably hot in Italy and unfortunately, this dress didn't really help to keep me cool. I think the dress was originally designed with warmer climates in mind, but I think this dress would work better in the 15-25 degree Celcius area, anything post 30C would be too much for it. I know I was asking a lot of the dress to perform in peak summer, in Italy, and that is obviously a unique situation. I'm hoping to utilize the dress more at home as a layering piece as we get further into the fall. (My disclaimer here is that I do not handle heat well. If you are a heat-loving human, then the Go Travel Dress may perform better for you).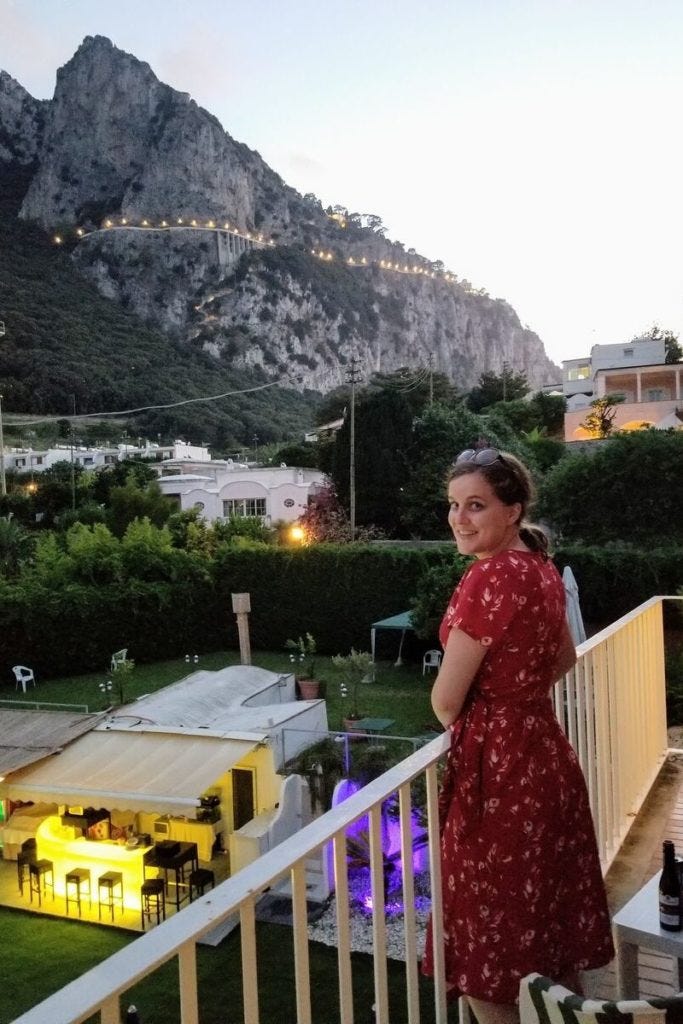 See those lights on the mountain? We walked all the way down that on this day. (Dress is at full-length here).
However, I do love that the dress is easy to care for. You can wash it in any temperature, hang it to dry or throw it in the dryer and it will survive. Plus, thanks to the performance fabric, it doesn't wrinkle. This is frankly amazing and ensured I didn't have to bug our hotel for an iron while scrambling to get ready for the wedding. 
Final Thoughts
I think from looks alone, the Kosan Go Travel Dress is beyond gorgeous. I even think I would purchase another one in a more daily-wear-friendly colour if given the chance. I do appreciate some of the technical details that Kosan included in the dress, the odour protection being my top fave. However, I also think I threw too many variables at the dress for it to perform at its best. Had it been just a couple of degrees cooler in Italy, I think it would have been the perfect dress. 
What do you think? Would you consider bringing the Kosan Go Travel Dress on your next adventure?
Image Credit: Tiny Ambitions