SWEAT, BLOOD AND TEARS: MY REVIEW OF MOONDOG PERIOD UNDERWEAR & A GIVEAWAY!
Yep, I'm reviewing period underwear. Get on board.
Disclaimer: Moondog provided me with gifted product to review. All opinions are my own. Previous to Moondog getting in touch for the review, I was already using (and loving) their products.
Before we get into this post, this is your warning that I'm going to be talking about periods, blood and bodies. I understand if that is not your jam and suggest you hit up my archives for other posts to read.
If you want to know more about an affordable, Canadian-made period product, keep scrolling. This post is definitely for you.
Read this post on the blog.
---
I want to preface this review by saying that your period is your business. Whatever choice of period protection you make is great, and I am not here to convince you that you need to change what you're using. People with periods have enough choices to make about their cycles without also having to obsess about whether what they use if eco-friendly.
Frankly, I don't super care about the impact of my period on the environment. Because my period is not something I can change. My choice of period protection boils down to what is right for my body and my budget. Period. I'm really just sharing my experience here to let you know what using period underwear has been like, in case it's something you're considering trying.
I'm a person who has a period. In fact, I've had my period for *checks notes* 16 years. That's 16 years of pads, tampons, liners, menstrual cups, reusable pads, and more recently, period underwear.
If you're a person who gets a period, you've probably seen at least one ad for Thinx and Knix period underwear. Tbh, I love their styles and I think their marketing campaigns are genius. But, the cheapest pair of Thinx retails for $32.57CAD and they go up to $56.99CAD. For ONE pair of underwear. Knix are a little more reasonable, ranging from $27 to $45 per pair, depending on the style. I'm not saying they aren't great products. I'm sure they work great. But I'll never know because that kind of price is not in my budget.
So, when Paige from Moondog in Vancouver reached out and asked if I would be interested in being a customer feature on their Instagram and if I would be willing to do a review here on the blog, I could not say yes fast enough.
Moondog's mission is simple. They want to make an affordable pair of period underwear that performs.
They currently offer three styles, in one colour (black) and range from $20-$25CAD per pair. Oh, and did I mention they are made in Canada? Even if Paige hadn't gotten in touch, I probably still would have wrote a review of their product, because I love them. And I want you to know about them.
My Period
I never thought I'd be writing about my period on the internet, but here we are. Before I get into the review of each style, I thought some period context would be helpful. If you're a person who has a period, you know flows come in all shapes and sizes. My reality is that I have PCOS (Polycystic Ovarian Syndrome). What this means for me is that I tend to have very heavy, very painful periods that happen whenever they want, with me literally never knowing when the next one is going to show up.
I also started a new form of birth control a couple of months ago that has been messing with my cycle. I've had a lot of spotting lately and I got real tired, real quick of using tampons every other day (don't worry, I'm working with my doctor to resolve the issue).
All that being said, I was looking for an alternative to traditional period protection. And it looks like period underwear has become a good solution!
Moondog Period Underwear
I'll get to the style specific review in a second, but here are some general thoughts of the product overall. I love Moondog period underwear because of its integrated, all-in-one design. The absorbent core runs all the way up the front and back of the underwear so you're completed protected. No matter how much you move, or how weird you sleep.
I'm happy to report I have yet to have any leaks wearing Moondog period underwear and they do a great job of absorbing quickly and keeping me dry. All three styles are made out of nylon, spandex and cotton, so they do feel a little bit like swimwear. But, I actually like the cool feel of the fabric. Actually, the seamless mid-rise reminds me of my high-rise lululemon swimsuit, which is a great thing because I adore that suit.
Every single style is super comfortable and does not feel like you're just wearing a pair of underwear with a pad sewn into it (which was an irrational concern I had before giving them a try). Just by looking at them, you wouldn't be able to tell they are period underwear. They look like normal underwear, with strategically placed seams and stitches where the absorbent core lives.
The sizing is a bit variable between the styles, so I've made a note below of the size I wore in each style. Moondog recommends sizing up, as they fit smaller than normal underwear. For reference, I wear between an US8 and 10 in pants, depending on the brand.
The Styles
Moondog currently offers three styles, low-rise bikini, seamless mid-rise and basic thong. All black. In sizes xs to 4xl (which is an incredible range of sizes for a small business to offer).
Thanks to Paige gifting me a basic thong and seamless midrise (I already owned the low-rise bikini style), I've tried Moondog's entire range.
I own five of the low-rise bikini in L and I probably should have sized up to an XL (I am well-endowed in the booty department for someone my size). I've been wearing the bikini style at night on their own during spotting days and as backup for heavier days. Low-rise isn't my favourite style, as I prefer a fuller coverage underwear, so I haven't worn them to work or out and about. But, this is more my preference than a fault of the underwear. I felt comfortable wearing them at night and didn't have to worry about them shifting in the night like I would have to with pads (I also have reusable pads in my period arsenal for when I get caught off-guard by spotting or a surprise period).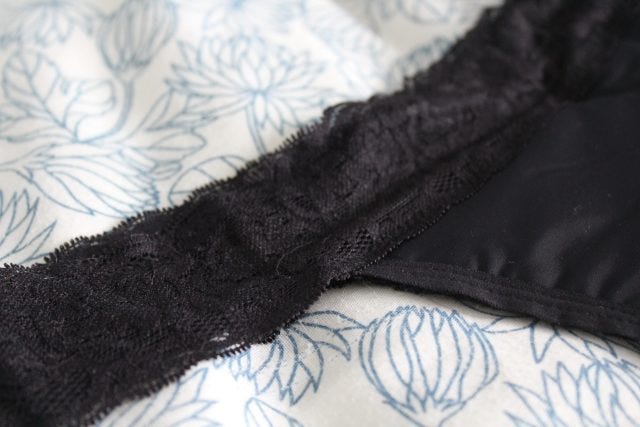 Moondog sent me an XL in the thong (at my request), but I actually think a L would have worked. This style has a little more give in the sides because of the lace elastic waist than the bikini, which is why I could have made the L work. Again, the thong wouldn't be my go-to as standalone protection because I have a heavier flow than it could really accommodate (that's on me and my uterus). But, I did wear it as a backup all day and it performed great. It's good to have as an option when you don't want fuller coverage underwear. If I ever have to attend a fancier work event when I have my period, I will for sure reach for the basic thong.
The mid-rise style is everything. Flat out, I would wear this style as regular underwear. It's full coverage, doesn't have seams to dig into you and can hold four tampons worth. It's seriously the star of the period show and my favourite Moondog product. It's also the most expensive style at $25 a pair, but it's well worth it in my opinion, and is still cheaper than other mainstream options on the market.
This is also the only style I've worn on their own during my period, mainly because of their full coverage and high absorbency. I've worn them to work, to social gatherings, and out and about and they were great. I felt secure because of the fuller coverage on the seat and higher ride, and because of their higher absorbency. I knew they could handle whatever unpredictable flow my body decided to have that day. These are definitely going to be my go-to style moving forward.
Care & Wear
Caring for these period underwear is super easy. I just rinse them in the sink, throw them in the washing machine with my other delicate laundry and hang them to dry. This process is something I'm used to with the reusable pads I have also used, so it wasn't an adjustment. I have yet to notice any stains, rips or tears. They are holding up super well after numerous wears. Unlike my reusable pads which have started to pill a little, the gusset in my Moondogs is still good as new.
Bottom Line: I love them.
I happened across Moondog on Etsy after a day of being fed up with my one-use period supplies that I always seem to be running out of. Seriously, I've lost track of the number of boxes of tampons I've bought in the last four months.
I figured I'd give them a shot. At $20-$25 a pair, Moondog period underwear was reasonably priced enough that even if they didn't meet all of my expectations, I knew I could make them work without feeling like I'd wasted my money.
I'm happy to report that they have exceeded my expectations and I'm so glad some random Etsying found them for me.
If you're looking for a reasonably priced pair of period underwear, and you want the bonus of being able to support a Canadian small business, Moondog is a great option.
You can get your very own Moondog period underwear through Etsy, (affiliate link) like I did, or direct from Moondog's website. Whatever e-commerce experience suits your fancy.
Let's be honest, period products can be expensive. Which is frankly bullshit because it's not like people can just decide to not have a period if they don't want one. That's one of the reasons I love Moondog. Affordability is part of their core values. But, if the thought of paying $20 for a pair of period underwear makes you want to gag, I get it. So, to make it a little more accessible, I'm going to do a little giveaway. If you want to try out a pair of Moondog period underwear, but cost is a barrier for you, email me at tinyambitionsblog@gmail.com. I'll send the first five people who email me a pair of Moondogs of their choice.**
**Open to Canadian residents only (sorry US peeps). Giveaway will be open until February 17, 2020 (or until I get five emails).
If you have any questions about my period underwear experience, leave them in the comments or email me at tinyambitionsblog@gmail.com, and I'll do my best to answer them.
Have you ever tried period underwear? How was your experience?
Image Credit: Tiny Ambitions, Moondog Shop
Disclaimer: This post contains affiliate links which means I'll make a small commission on every purchase (at no additional cost to you). All money generated by these links helps to support Tiny Ambitions.